Letter from our Designer:
I have always been nostalgic for the past. Old films, vintage photographs, magazines, jewellery, and Hollywood glamour at its finest. A time when headlines were about Elizabeth Taylor jumping into a swimming pool with a new set of Cartier jewels on and Bridget Bardot frolicking around the French Riviera during the Cannes Film Festival. Women drinking champagne for breakfast at noon on the terrace of their vast Italian villas while Slim Aarons lay out by their swimming pools.
Then, glamour was allowed a darker side, not needing to fit into the seemingly perfect lives we are surrounded by today. A Newton photograph dipped in sadness; the tragedy of Fitzgerald's Gatsby, the cruelty of Cruel Intentions and Les Liaisons Dangereuses. The shadow of the glamour gave it wholeness, made it real, and suggested that our own imperfect lives could feel just as glamorous with nothing more than the touch of a diamond or a party dress.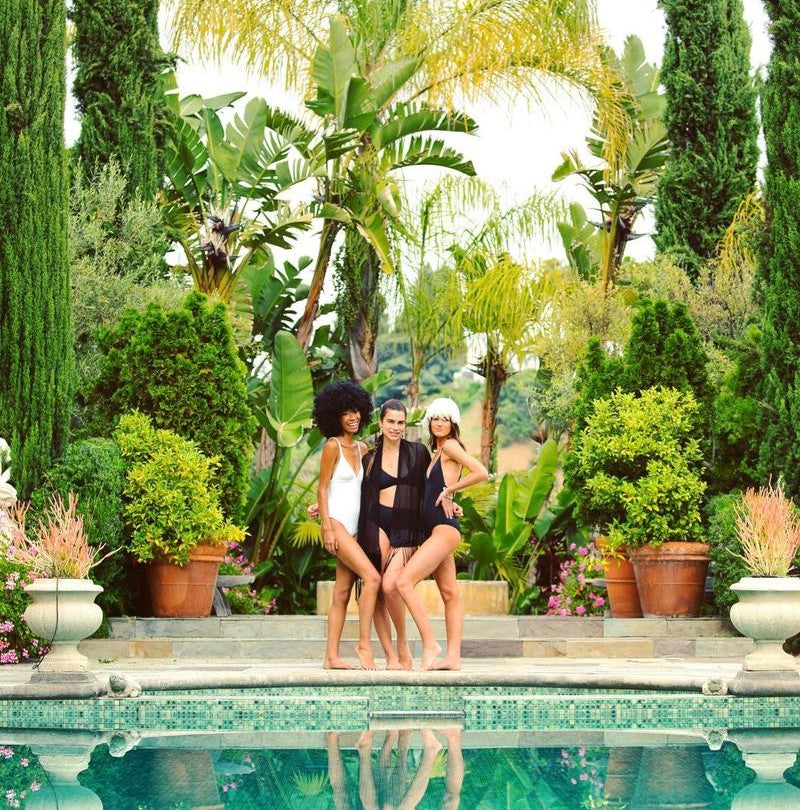 They live for fun and games, move about the world with enviable style, culture, and adventure, and have the world in the palm of their diamond adorned hands. Their swimsuit puts forward the best version of themselves. One that can eat, drink, and dance until the sun rises without a moment of feeling self-conscious. So, I make that swimsuit for all the women out there. The ones who battle every day against our insecurities, and win.
The magic of this dream is a little confidence. This is my number one priority. I want to make women feel amazing in my swimwear. This is achieved with simple flattering lines, the highest quality materials, and a perfect fit proudly made in America.
I feel so grateful for all the amazing experiences I have had. From studying at The University of Texas, The Sorbonne in Paris, Regent's College in London, and Parsons School of Design in New York City, to working at British Vogue, Harper's Bazaar UK, Moda Operandi, Fivestory, and Emilia Wickstead. I've had the opportunity to work with and learn from some of the most iconic women in the industry, and in 2019 I finally felt ready to launch the brand I always dreamt of.
Welcome to my dreams. I hope you love it!
Xoxo
Stefana Tabacaru